2014 Lender Lists:
QuickQuid @ www.quickquid.co.uk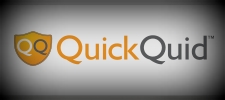 2015 Updates:
~ The variable interest (£20, £25 or £29.50) has now been scrapped and you now pay £24 per £100.
~ First time applicants can get a cheaper deal when using their
New Promo Code
(this updated monthly cost would be £18).
~ FlexCredit has now been closed down.
~ Enova Financial Inc and Cash America International Inc have now split apart. Enova is the new owner of QQ (plus On Stride and Pounds to Pocket).
QuickQuid launched at www.quickquid.co.uk in the year 2007 and they quickly became established as one of the big two major payday lenders. This brand that is locally based in London is a trading name of CashEuroNetUK LLC that is a division within Cash America International Inc that is controlled by Daniel Feehan. This is an American organisation (based in Texas) that has always fought out for market share with PaydayUK who are another US firm ran by DFC Global Corp. QQ initially started out offering traditional monthly payday loans with an optional second monthly term. A recent upgrade has seen an additional third month being added.
Further flexibility later came through the launch of the FlexCredit project that allowed each applicant to select flexible terms between 1 and 10 months. This is now fixed at 10, but you can clear early at a later stage. This product can be applied for on the referenced website, although they have now setup a second website just to cater this. The available sums accessible here do stand on the large side. As a new customer you could apply for £50 that heads up to a giant sum of £1000. On return visits you could even access a possible loan of £1500. If you wish to head up to £2000 over a more manageable period then you could try out their sister-brand for this (Pounds to Pocket). You could receive even more now with On Stride.
The www.quickquid.co.uk site does come equipped with secure account servicing. In regards to the charges, they have variable rates that are determined by the applicant's credit score. On each £100 the fee would be £20, £25 or £29.50. They run a promotional code at 30% that trims these prices down to £14, £17.50 or £20.65 (Get Discount). The costs detailed are the only charges, since free fast funding is provided. They also trade 24/7 and so the loan process is always dealt with swiftly. This CFA member is a regular TV advertiser and their online promotions are just as actively pursued.