2014 Lender Lists:
SpringCoin @ www.springcoin.co.uk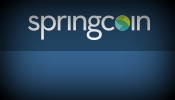 SpringCoin is a personal loan lender found at www.springcoin.co.uk. They started out in 2010 with an automated payment negotiation tool that was released through the dot com address. They moved forward with this new lending operation in late 2013. This company is part of AvantCredit Inc who are based in Chicago and they also trade in their home country as AvantCredit that also launched in 2013. The SpringCoin loans have unusually high cash sums from £1000 up to £20,000 and the term span is 12 to 36 months. Bad credit is considered and they are reaching out to those who can't get a loan from banks or mainstream lenders.
There is a vague APR range headed of 19% to 99%. Our example is based on their breakdown provided. So for a £1000 loan over 12 months the cost here would be £223.61. Decisions are made quickly through sophisticated technology that has been hyped up by leading tech blogs. Once approved, they send same day funds through the Faster Payments Service with no extra charge. Account servicing is provided via www.springcoin.co.uk and they state that their support team is there to help you 7 days a week (they don't mention any specific times). Once logged in you can make early settlements to save on interest.
The SpringCoin service is quite similar to Pounds to Pocket in the manner that you can be quickly approved and funded on any day of the week. I believe the AvantCredit team members were actually involved in the development of Pounds to Pocket through Enova that is also based in Chicago. The huge £20,000 sum is the standout product feature here. You won't find any bad credit unsecured loan lenders that can match this. It is possible with secured logbook loans, although you'd need a vehicle worth £30,000. It will be interesting to see how they measure up with On Stride Financial over the coming years, since they also provide similar competitive rates.