2014 Lender Lists:
UK Payday Loans Cap 2015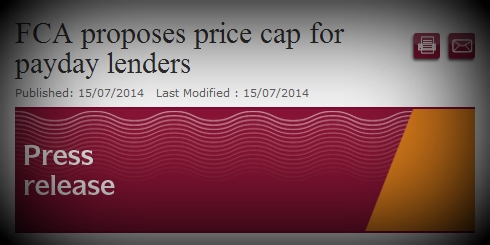 Back in November 2013 The Chancellor of the Exchequer (George Osborne) announced that the government would introduce a cap on the cost of payday loans through amendments to the Banking Reform Bill. They have handed these powers to the Financial Conduct Authority (FCA) who replaced the Office of Fair Trading (OFT) for regulation. You may have noticed this change through the Consumer Credit Licence number now going under the title of the Interim Permission number. The FCA has already initiated changes to advertisements, to affordability checks and they now limit rollovers to two. They are also developing quite a reputation for churning out fines to various companies involved in financial markets.
Banks in particular have felt the grunt with Lloyds and their Bank of Scotland subsidiary collectively being fined £28 million back in late 2013. The payday loan cap in 2015 was put in writing when a press release was sent out in July 2014 (Link). This sent a shockwave through the industry that is certainly likely to push a large number of firms into closure. The proposals discussed today will come into force from January 2015 onwards and there will be a review in two years. The central rule coming into play is that there will be a daily cost cap at 0.8%. This includes interest and any other fees.
For £100 over 30 days the total cost will be no higher than £24. As seen in our comparison chart, a range of lenders charge £25/£100 monthly and so they will only have to make minor adjustments. There are some firms that we have introduced that ask for much more than this. In some cases we have seen companies asking for more than £60/£100 over the month. Lenders like this won't stand a chance and will no doubt be unable to adapt. There are some other changes being enforced. This includes default fees being capped at £15 and the 0.8% per day rule will follow for defaults.
This then connects to the total cost cap standing at 100% and so if you borrow £80 then you will never have to pay more than £80 in charges should you default and run into continuous problems. Some interesting facts were presented in this press release. They for instance noted that 1.6 million consumers took out 10 million loans with a total value of £2.5 billion over the 2013 year that highlights the scale of this sector. The discussed caps are targeted at Payday and Short Term loan companies. The Instalment brands won't be affected much since the daily rates in those sectors are already much lower than 0.8%.
These new changes will help the consumer and put an end to those that charge excessive fees. One thing to point out is that the interest tends to be high to mitigate against the high default rates. This may make it difficult for some brands to continue trading. It does seem apparent as well that payday lenders are being picked on here. There are just as many problems being encountered in other subprime markets. They have also paid no attention to high street banks where some of the unauthorised banking fees are much more excessive than 0.8% per day. Perhaps the focus on the payday sector merely surrounds its vast popularity.