2014 Lender Lists:
SafeLoans @ www.safeloans.co.uk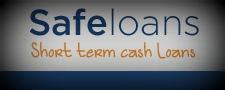 SafeLoans is an experienced loan provider that has been active online at www.safeloans.co.uk since back in 2003. The company itself was formed in the year of 1989 and so they would have likely started out through brick and mortar lending. They did at one time also trade as PaydayOK that was later closed. The service in focus was previously available over shorter terms. However, they have now scrapped these selections to cover instalment periods of 1, 2, 3 or 4 months. When applying for the first time you can select amounts from £50 to £400 and the possible future sum was £750, but they now list £800.
The charges are set daily at 1% and so for over a month (30 days) you would need to pay £30 on every £100 borrowed. The same rate is in place over the various instalment periods and so 1% creates a £300 3 month charge of £270. It is quite strange to see a fixed interest charge in place for instalment loans, since most lenders make big reductions the further that you extend your term. Other than interest, you must also decide on the funding that can be free or paid. Other than slow they have showcased for some time fees of same day at £10 or within the hour at £15.
On a recent check over their service I noticed that when you view their repayment calculator this takes you to a new subdomain section. Here they only mention the free and the £10 transfer options and so these would now likely be your choices. Be aware that SafeLoans only processes loan applications during Monday to Friday between the hours of 9am to 5pm. The www.safeloans.co.uk website has a professional design and secure customer logins are provided once signed up. This clean appearance and the owner's valued experience is also supported by responsible lending that is clear from this lender holding both BCCA and CCA trade association memberships.