2014 Lender Lists:
Rapid Cash @ www.rapidcashadvance.co.uk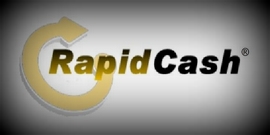 Rapid Cash is an experienced payday lender based in Burnley that launched in 2006. They do use the full title of Rapid Cash Advance in the featured domain (www.rapidcashadvance.co.uk), but this is not their branded name. They do also trade at www.rapidcash.uk.com although this is just a mirror copy. A monthly loan is provided to UK residents that can be taken between £80 and £500. The interest is fixed at 29.5% and so you pay £29.50 per £100. As their name suggests, same day funding is included and there is no additional charge for this that makes this a competitively packaged service.
Rapid Cash Ltd isn't too well known across the sector. I was surprised to not hear about them sooner though since they have been trading for such a long time. It is clear that they have plenty of market experience behind them. Although no SSL is assigned once you reach the main site for the first time, once you head into "New Customers" the encryption then comes into force no matter which page you visit. No customer login is provided over at www.rapidcashadvance.co.uk (or at the other site) and so you would have to ring them if you for instance wished to clear early or rollover your loan.
This payday lender opens their doors between Monday and Friday from 8am to 6pm and so there is currently no weekend coverage. Although this company has gone underground over their trading time, I have noticed their adverts springing up in Google search over the 2014 year and so perhaps they are starting to step up their promotional tactics. The pricing in place here is set well considering that you do receive a monthly loan under the 30% rate that includes a same day transfer. Just to add that this company isn't affiliated to Speedy Cash who have a few stores under this same name over in the United States.