2014 Lender Lists:
First Direct Overdraft Charges @ www.firstdirect.com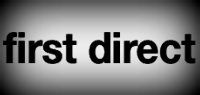 First Direct started out as a telephone-only bank in 1989 and their call centre has never closed since this time. They have stayed away from the high street and have directed their efforts on their website (www.firstdirect.com). This brand is of course owned by
HSBC
. They are well known across the market for their excellent customer service where they continually pick up industry awards. Just how well do the First Direct overdraft charges perform though? There is just one single banking product available that is called the 1st Account. There is a First Directory add-on that costs £15 monthly, but this is just fitted with a range of insurance products.
1st impressively comes with an interest-free £250 overdraft and you automatically receive a limit of £500 when you sign up. There is usually a £10 monthly fee, but this is not in place for 6 months for new customers. Fortunately, after this period they waiver this fee if you pay £1000 per month into your account. For the First Direct overdraft charges that are imposed after the £250 limit has passed, the interest is 15.9% AER. For unauthorised overdrafts, there is a £10 buffer. There will be a £25 paid item fee and they will enforce a cap of £150 over the month. There are no unpaid transaction fees.
If you switch from your existing bank over to www.firstdirect.com then you will be handed with £100. Their highly acclaimed customer service team is there for you at any time. Obviously you have to live without having any local high street branch. You can pay in cash and cheques free of charge at HSBC branches if you need to though. There are some great product qualities here, but just beware that they pay no interest on your balances. If you are paying a lot of money into an account then Nationwide or TSB would be good shouts to head to, since they offer 5% (up to certain limits).