2014 Lender Lists:
1st Stop Personal Loans @ www.1ststop.co.uk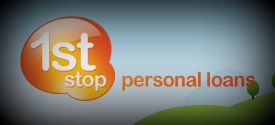 When you initially reach www.1ststop.co.uk you will be handed with the loan option of selecting Car, Guarantor, Home or Personal. This post was originally composed for 1st Stop Instalment Loans, but this service was recently replaced by that final option (Personal Loans). If you have used them in the past then you may recall that they at one time also had a "Payday" offering. The group owner is based in Blackpool and they have been operating since back in the year 2004 that highlights their valued market experience. These 1st Stop Personal Loans are available to UK residents in full time employment aged between 21 and 65.
The online sums offered range from £1000 up to £10,000. The repayments are spread out between the period of 12 and 72 months. They provide an example of a £3000 loan over 36 months costing £2043.20. This includes a processing fee of £225 (7.5% charge). Based on this example, £1000 over 12 months should create interest at £202.02 alongside £75 for the processing fee. This total cost of £277.02 is highly competitive and this stands as one of the top 12 month rates that we have studied to date. It is stated that 51% of their customers qualify for their displayed rate.
SSL is used at www.1ststop.co.uk, but there is no login facility and so you would have to phone them to settle early. Applications are processed between Monday and Friday (standard business hours are expected). If you are declined for this product, then they may be able to take you on through 1st Stop's Guarantor loan that is headed at 52.64% APR. A £3500 example over 36 months is listed as having a complete repayment of £6297.12 that includes an £85 acceptance fee. The person standing in must be a homeowner with a good credit history. Finally, you can borrow up to £5000 over 5 years.