2014 Lender Lists:
V5 Solutions @ www.v5solutions.co.uk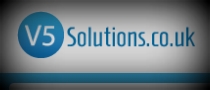 V5 Solutions provide direct logbook loans through www.v5solutions.co.uk that was created in 2012. The team behind this brand (Betterpace Ltd) carries plenty of industry experience though having being incorporated in 1996. Further to the featured company, they also trade through the Log Book Loans Norwich and TopUpToday brands. On the loan calculator you will see available cash amounts displayed from £200 to £5000. Within the FAQ they note the possible sum of £50,000 though. The term durations are set over 18, 24, 30 or 36 months. This is a large starting period although you can settle at any time and receive a rebate when doing this.
The sample APR comes in at 497.9%. £1000 over 78 weeks would create a charge of £1922.66 and so the monthly rate is 9.86%. There is an extra £10 fee if you want your cash to be issued by the Faster Payments Service. This would take the monthly rate up to 9.911%. With this option you receive the cash in just a few hours, or you can instead just opt for a cheque. There are many positive aspects to the eligibility requirements in place here. No credit check is required, poor credit including CCJs is accepted, self-employed applicants are catered and bank accounts aren't essential.
What counts is that you can demonstrate to them that you can afford to make the repayments on time. The www.v5solutions.co.uk site uses encryption and although there is no complete login facility, you can make repayments online that most of their rivals don't allow you to do. Once V5 Solutions loans have been processed, an agent will organise a place to meet you locally. Their specific trading times aren't listed, but a note of Monday to Saturday is shown on the site. This is a responsible lender that has took on CCTA membership and the general feedback viewed on Trustpilot has been very supportive.