2014 Lender Lists:
TrustTwo @ www.trusttwo.co.uk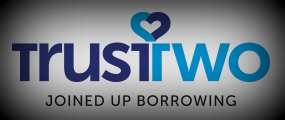 TrustTwo is a new guarantor loan product from the team at
Everyday Loans
(owned by Secure Trust Bank Plc). It has replaced Duo that was packaged alongside the main product. This new brand is served on its own website at www.trusttwo.co.uk that was put together towards the end of 2014. The TrustTwo guarantor loans have 2 standout qualities that includes low pricing and the high available loan sums. They have replaced Duo in providing the cheapest sector rate at 39.9% APR. With sums, £7500 can be obtained although this is by applicants that can source a homeowner backing. Otherwise, with tenant backings you can access between £1000 and £5000.
The term range sits between 13 and 60 months, but you can settle early. The signup process is completed online and so you won't have to send out documents to them. It is headlined that the payout should take around 3 working days. Users can take advantage of the login added at www.trusttwo.co.uk. Low cost is the key USP of this service. The minimum term is 13 months, but if you cleared after 12 on £1000 then you would pay just £195.88. Most similar firms charge around £230 to £240. Their customer support advisors are available from Monday to Friday (9am to 6pm) and on Saturdays (9am to 12pm).
Searching for a guarantor shouldn't be difficult since they accept tenants. There is quite a high age requirement asked for though between 25 and 74 years old. It has been good to see this new company launch on its own domain. The navigation on their older site for Duo was always tricky. Other than offering the higher £7500 there has been no other major product update. You can now receive up to £12,500 at Everyday, but the process on that side still needs to be completed at a store and payout is by cheque. Fortunately, this hassle-free solution enables funding within just a few days without any such required visit.