2014 Lender Lists:
TFS Loans @ www.tfsloans.co.uk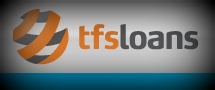 TFS Loans is a guarantor brand from The Finance Store Ltd that you can find at www.tfsloans.co.uk. This website was created back in 2010, but this company has been active since 2003. It is unknown when they started offering guarantor loans, but
FLM
was likely to be the first company to offer this type of service back in 2005 (they brainstormed the idea in 2004). The TFS guarantor loan product in focus grants funds between £2000 and £10,000. This high sum is interesting to see since non of their competitors stretch as high as this. Their full repayment range sits from 2 to 5 years.
It would be ideal to see them begin from 12 months, but they do allow customers to repay early for a rebate. When we last analysed this firm they started from £1000, but the minimum loan is £2000 for 24 months. This would cost £878.80 that would calculate as £219.70 per £1000 per year. This is our best estimated guess and so you may pay more. Their headed APR is 44.9% and so they have lowered this recently. This company has always had an introducer program running and so broker fees would apply when referred. There are no logins at www.tfsloans.co.uk, but they do encrypt.
The design of the TFS Loans website was updated recently and their product information is now more clearly presented. To qualify, a homeowner with a good credit score is required and they must be aged between 18 and 80. Poor credit (including CCJs) is welcomed so long as a suitable backing can be sourced. Paperwork did have to be sent through the post, but they now just note that a payout is possible in 24 hours. Their times of operation from Monday to Thursday is 9am to 7pm and Friday is 9am to 5pm. Other than their valued experience, that possible £10,000 sum helps The Finance Store to stand out in this crowded market.