2014 Lender Lists:
Skyline Direct @ www.skylinedirect.com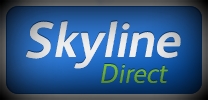 Skyline Direct provides doorstep loans in Northern Ireland and Scotland only. This lender operates online from www.skylinedirect.com that was created in 2009. It does head that they have been operating for over 60 years, but no further background info is presented. They are based in Belfast and it is their home country that is central to them, whilst expansion in Scotland has been a more recent focus. The cash sums of £100 to £500 are promoted on their homepage, but new customers are restricted to £200 and it also notes in the FAQ that £1000 may eventually be possible. You can alternatively receive vouchers if you wish.
You can select 20 or 30 weeks on their payment calculator at www.skylinedirect.com. As I believe, 40 weeks is possible (likely for existing customers). To cover the costs in place, for £300 over 20 you would pay £120 or over 30 this would be £150. This second example works out as the second cheapest home collection loan rate that we have studied to date. The Skyline Direct loans can be paid by debit card if you would prefer not to have the agent collection service that is a nice touch. Once an application has been received they will look to send out an agent within a few days.
It is not mentioned how many agents they have within their organisation and their opening times are also not listed. There is a CCA member badge at the bottom of the site, but no reference in writing to membership. Although Skyline loans are not available in England where most of the sector business is running through, the feedback from their existing user base in NI/Scotland has been supportive. If you do reside within their trading zones then they would be a great choice to go with, especially based on their service costs. Only Mutual beats them, but their product is restricted to East Anglia, East Midlands and South Yorkshire.