2014 Lender Lists:
M&S Bank Overdraft Charges @ www.marksandspencer.com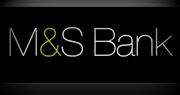 M&S (Marks and Spencer Plc) was established in the year 1884. In modern times they impressively emerged as the first British retailer to turn a profit of £1 billion. They have however slipped behind Next recently. There are around 800 stores and the Chairman is Robert Swannell. Clothing has been primary, luxury food has followed and now their banking division is their latest focus. This operates as a joint venture with HSBC. The free current account in focus was only launched in 2014, but their paid Premium product has been around for a while. The M&S Bank overdraft charges studied were uncovered from www.marksandspencer.com (on the Bank subdomain).
If we start with their new offering, this carries no monthly fee. It includes an automatic £500 overdraft on opening and the first £100 is free with the following borrowings being charged at 15.9% EAR. Buffer protection at £50 is also included. No other fees are imposed. If you do surpass the buffer then they would in most cases refuse the payment. They merely state that this could damage your credit score. A banking customer login is provided at www.marksandspencer.com and they have setup 29 Bank branches (within a selection of their existing stores) that are open on evenings and weekends that helps to differentiate them.
The Premium account is no different when it comes to overdrafts. This comes with a £10 per month price tag though. This includes a range of vouchers that surpasses the value of the fees paid in (mostly for Café drink coupons). This can also be upgraded with travel insurance that totals £17.50 monthly. It is good to see that they also reward those that switch with a £100 gift card (an extra £50 is included with Premium when you open the account). The M&S overdraft charges are impressive, but you have to remember that this is essentially a HSBC-branded package. You also receive no interest on your balances.