2014 Lender Lists:
Fancy a Payday @ www.fancyapayday.co.uk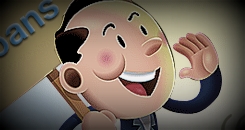 Fancy a Payday loans have been available since the later stages of 2009 from the address of www.fancyapayday.co.uk. They have also been active through the sister-brand
THL Direct
since late 2008. The listed owner based in Bournemouth is Response Funding Ltd whilst they use Total Home Loans Direct Ltd for the other company. The application form displays £100 to £250 selectable amounts and a first time restriction is noted in the FAQ at £150. There is 48 hour loan available, but they now only display an application form for their same day option. You should in this case ring them to go with a free transfer.
Interest is priced at the rate of 30%, but there is also a required £25 fast transmission fee and this itself also attracts 30% interest that adds up to £7.50. As a total cost you would be looking at an expensive service charge of £62.50 per £100. As an update, they also display a £3.99 admin fee for the initial loan on their homepage that ramps up the charges further. The Fancy a Payday loan application form on www.fancyapayday.co.uk uses no SSL. There is no customer login facility built in here as well with there instead being additional forms added for extensions and reloads.
The Fancy a Payday operational days/times are not disclosed, but they are on the THL website as 9am to 6pm on working days only and so they should be matched. For eligibility they also reference on the other site being 21 years old and a minimum wage of £900 and so this would likely be in place here. From scanning through their terms page it states that they contact employers and I spotted some online reviews that confirmed that this was being done. The speedy funding costs are very excessive here. I don't believe they make quick payments by CHAPS and so you would expect much smaller charges of around £5 for FPS transfers.