2014 Lender Lists:
Cheque Centre @ www.chequecentre.co.uk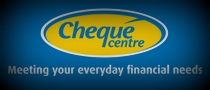 Update: Online loans are no longer available here.
This post was initially going to be made for The Loan Store who have been providing payday loans since 2003. However in late 2013 there was a branding change that saw them become the Cheque Centre with all visitors now being redirected on to www.chequecentre.co.uk. The Loan Store had previously been the online supplier for the Cash Generator Loans and also for this company in question. CC provided their own money on the high street, but their web leads were passed on to TLS. The reason for this was that all of these companies are owned by the same larger group (Axcess Financial Services Inc).
Cash Generator has stopped referring online short term loans and they now just ask people to come in store where they are issued by this company (as Cheque Centres Ltd) or by the franchisee. The Cheque Centre was originally formed in 1996 and they have over 200 stores. You can head into one of their many branches or you can instead apply directly at www.chequecentre.co.uk that does house secure logins. This CFA member offers amounts for new applicants from £50 to £500 with £1000 being available to returning client only. The interest is fixed at £29.99 per £100 and this is a full cost that includes a faster payment.
These monthly loans are processed from Monday to Friday between 8.30am and 6pm and also on each Saturday from 9am to 5.30pm. From checking through their site info, it does appear that documentation may likely be required and it may take 30 or so minutes for approvals to be made within their operational hours. On this website, there is a wide range of further products displayed that includes options to sell used gold and mobile phones (these are dealt with in branches only). Just to add that there isn't much of a difference in pricing between this high street chain and the market leader (The Money Shop).