2014 Lender Lists:
CheckMyFile @ www.checkmyfile.com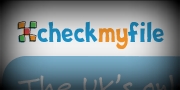 CheckMyFile is a credit monitoring service that retrieves data from the major CRAs. This service was launched by Credit Reporting Agency Ltd through www.checkmyfile.com back in 2000. There has been a few multi-agency reports available over the years, but this is certainly the most popular release. They take the info directly from
CallCredit
and
Equifax
, whilst only public data is available from Experian. Public data would likely only be available, since this CRA of course runs the market leading report (
CreditExpert
) and so it has been important for them to maintain their prominence through exclusivity. CheckMyFile displays providing 7 scores and this package also includes identity theft assistance.
It is good to see that they do allow first time visitors to take out their product on a free trial over the first 30 days. After this time the price is set monthly at £7.99 or you can alternative opt to buy a single report from them that will come out at the price of £19.99. Although this service comes at a cost, I did notice that they also make recommendations for credit cards and loans. They will be earning from any successful leads generated there. This is how Noodle makes their money, but the difference is that they offer their reports for free.
Once signed up the servicing is managed directly through www.checkmyfile.com. Once you login here you will see that the interface has been crafted well. It is no surprise that they have become popular over the years with it being useful to compare the data of CallCredit and Equifax. It will hurt them though to miss out on Experian who are used by more lenders than any other CRA and as a result CreditExpert is by far the most popular report. The biggest emerging product has been Noddle that comes for free and so it has naturally been difficult for this paid service to stand out within this sector.