2014 Lender Lists:
True Blue Loans @ www.trueblueloans.co.uk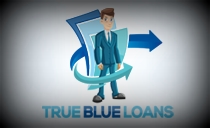 The True Blue Loans brand was launched recently in 2013. They have been growing at a quick rate since this time and are already becoming a popular choice in the instalment loan sector through the search engines where they are performing well. This product has been released by Fidelity Works Ltd and it is served through www.trueblueloans.co.uk. They offer 3, 6 or 9 month loans that can all be paid off at any time to grant savings although this would have to be phoned through. £100 to £750 can be applied for in total. There is a first time restriction imposed though at the amount of £400.
When it comes to the pricing, there is no fast funding fee in place with just the interest charge needing to be paid. This works out on every £300 borrowed over the 3 month term at £188.61, whilst over 6 you would be looking at £366.67. These costs rank more competitively in the 3 month sector since there isn't much of a change to the daily rate at 6. There is no customer login facility built in within www.trueblueloans.co.uk, but they do encrypt all applications. With no login you would have to as noted phone through to pay off your balance at an early stage.
Any such early repayment request (or loan verification) would only be dealt with during their operational hours. This is throughout working days only during the times of 9am to 5pm. You may have to wait for their underwriting to be completed that includes a workplace verification call. Fidelity Works Ltd has took on a membership place with the CCTA trade association. The True Blue Loans are targeting those with bad credit, but just beware that they do require their customers to be earning at least £1200 monthly to qualify. Finally, there is a note on one of their pages that they do offer loyalty discounts, although no further details are disclosed.