2014 Lender Lists:
V5 Loans @ www.v5loans.co.uk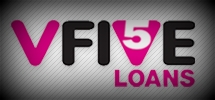 V5 Loans is an experienced logbook loan specialist based in London that serves their product from www.v5loans.co.uk. They have been providing loans since back in 2008. You can obtain cash sums here from £400 up to £20,000 with bad credit not being an issue. The APR is displayed as 447.6% and they provide just the single charge breakdown. This covers a £1500 loan that is taken over the period of 104 weeks (2 years) that is the set term always applied here. This has a charge of £3851.84. This would work out at £1283.95 per £1000 over the period of 12 months.
One note regarding the pricing is that they offer a £100 cashback bonus if you can find a cheaper deal elsewhere and they also state that they can price match this. I can't see them doing this since the lowest sector price is £700.04 that is significantly lower than £1283.95. The standard term is as noted set at 2 years, but you an freely settle early to receive savings. As with many of their rivals a simple form is attached to www.v5loans.co.uk that uses no encryption. Once your basic details have been entered and received they will call you back to proceed with the application.
They will look to meet you at a convenient location to complete the process and payout. This CCTA member lends to residents of England and Wales and your car must be registered after 2003. They don't dig into the eligibility requirements on the site, other than saying that bad credit is fine so long as you have an income stream to support the repayment schedule. V5 Loans isn't one of the most popular providers around, but they are experienced and do provide a good all-round service based on several reviews studied. No reference could be found surrounding when they actually process applications and so standard business hours would be expected.