2014 Lender Lists:
Tandem Loans @ www.tandemloans.co.uk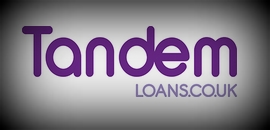 Tandem Loans is
Provident's
new guarantor loan project served through www.tandemloans.co.uk. This website was interestingly setup in late August 2013 and just a few days into September they followed on from this in setting up
www.satsumaloans.co.uk
. Satsuma is widely advertised across the web and they have received tons of attention from the media as well. Strangely, I couldn't spot any Tandem Loans coverage/reviews, with there just being some minor references to the brand from some employees who have been working on the project. Although they have kept a low profile to date, I'm sure that this won't be the case for too long.
This guarantor product has two features of interest here. This includes their acceptance of tenant guarantors and they also offer cash levels as high as £7000. The full range is £1000 to £7000 and the term span runs from 12 up to 60 months. To cover pricing, for a £1000 12 month loan the total charge would be £318.74. In comparison with other firms who don't require homeowners, George Banco asks for £286.16 and UK Credit Ltd charges £317.12. So they are just slightly more expensive than UK Credit. There is a secure login feature at www.tandemloans.co.uk, but this allows you to complete your application only.
This is confirmed from spotting in their FAQ that for checking your balance or settling early you will have to phone them. The guarantor must have a good credit history and be aged between 18 and 70. If you are accepted at Tandem Loans then they will aim to get the cash to you in 24 hours. Their customer service team can be reached between Monday and Friday from 9am to 7pm and on Saturday from 9am to 1pm. It is good to see that they extend to Saturday, since many sector lenders close on this day. As well as this, that top £7000 sum helps to differentiate this service.