2014 Lender Lists:
DirectMoney @ www.directmoney.com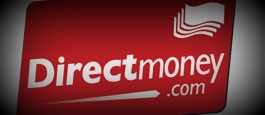 The DirectMoney payday loans brand is the creation of Chromevalue Ltd. They are most commonly known through Chitter Chatter that is an established mobile phone business that was created in 1994. The product in question is served through www.directmoney.com that itself is an aged domain. It is not confirmed when Chromevalue took it on, but summer 2012 appears to be the likely period. The homepage shows a calculator with headed sums of £50 to £400. Despite this, £250 is the newcomer restriction and £1000 is a possible future amount (accessible once logged in). The term is set over the month and the charge is fixed at 25%.
This creates a £25 per £100 borrowed charge. Besides this interest, there is also a £5 forced transfer fee that is deducted from the funds sent to you. Essentially the overall cost in this case works out at 30%. The DirectMoney loans website at www.directmoney.com is equipped with a secure account service enabling management of their product throughout the month. When it comes to the days/times of operation, the full times are not listed, but there is a note that if you make an application before 4pm then they can transfer the funds by 5pm that would likely be when they close shop for the day.
They do also mention that this is during a normal working week only. This company that has joined the CCTA trade association does not ask for too much from their applicants and so they may give you a chance when others may decline you. Overall I would say that this is a quality service with good pricing. One main lacking area is simply the lack of promotion for the brand that would make it difficult for most lenders to stay afloat. They don't use social media here, but Chitter Chatter on the other hand benefits from this and so perhaps most of their focus is directed towards their established business.