2014 Lender Lists:
WageMe @ www.wageme.com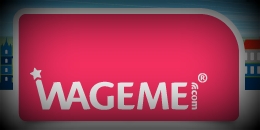 The WageMe lending brand was launched back in the summer of 2012 at www.wageme.com. Although they haven't been active for a long time, they have certainly adapted to the market well, picking up a loyal customer following along the way. They have also received plenty of positive feedback on major review sites. This includes Trustpilot where they have always ranked in the top 10 (as shown in our Trustpilot "Money" rankings below every post). Monthly payday loans are available here that for new customers grants between £50 and £400 (£750 for return clients). On the payment calculator you will see displayed a £39 per £100 charge.
With that £39 price tag, the daily rate stands at 1.3%. This is headed as covering interest and fees, but this actually doesn't include the fast transfer that is optional and comes at the price of £15. If selected, this amount is deducted from the loan amount delivered to you. I did notice a WageMe loans promo code box that is designed to get rid of this fast fee. There is no sign of any live codes across the web though. When entering on to www.wageme.com for the first time you will be welcomed with eye catching graphics and this website is fully equipped with secure logins.
On a recent check, I spotted that they have become FLA members. There is no reference to their times of operation, but Monday to Friday (9am to 5pm) is likely. There is no doubt that this lender has progressed well in their short trading time. Their Facebook page has already filled up with 5500 fans. If you visit this page you will see their new adverts that have been placed on the side of taxis across their local area of London. If you are interested in applying then it would be important to track down a promo code, as £15 is excessive for an FPS transfer. Failing that, I would just opt with slow funding.