2014 Lender Lists:
Via SMS Polska @ www.viasms.pl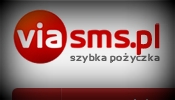 Via SMS (or ViaSMS) is the 3rd most popular short term lender in Poland that you can find at www.viasms.pl. This brand belongs to the Via SMS Group that was formed in 2008 and they are based in Latvia. They are active in 6 countries across Europe although they use a different name in Sweden. They did trade in the UK as
PoundAccess
for a few years, but they struggled to adapt and soon closed down. They have always performed much better elsewhere and Poland is a notable business destination for them. This is yet another company that offers Polish residents with their first loan for free.
This offer covers 100 to 500 zł that can be selected over the period of 1 to 30 days. The maximum return amount is 2000. The cost for returning users for 500 over 7 days would be 38 whilst over 30 this would be 78. Bank accounts must be confirmed with 0,01 that they return to you. The funds can be received soon after 15 minutes if you use one of their listed banks. The Via SMS Polska loans are available on every day of the week. The Monday to Friday time listings are 8am to 10pm, Saturday is 8am to 6pm and Sunday is 10am to 6pm.
Each customer can manage their loan through the provided logins at www.viasms.pl. If you wish to extend the repayment then you can do this once logged into your account. With the first free loan deal and the 7/7 trading days, this firm has created a service that can compete with Vivus who stands as Poland's most popular lender. What is interesting is that both of these companies arise from Riga (the capital of Latvia). Net Credit is a 3rd company from this same location and so it is clear that the Latvian firms are dominating this sector. Wonga wouldn't have expected this when they moved here.