2014 Lender Lists:
Savvy @ www.savvy.co.uk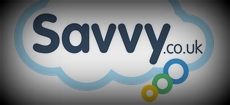 Savvy is a 2014 rebrand of
Lightning Loans
that itself previously went under the guise of Valour Loans. The background of the original brand is unknown, but the owner has been trading since 2003. This is the second company that has changed their identity in 2014 (with the other being
Different Money
that was a change from
MyMate
). This new service in focus at www.savvy.co.uk is specialised in loans over the period of 12 months. If an applicant successfully passes their credit check, but is counted as a risk then they will be offered a smaller 6 month term on more restricted cash sums of £100 to £300.
The 12 month term grants sums between £300 and £2000. The pricing when you take out £1000 will be £1000 and so there is a simple 100% charge. We did spot a note that there may be a small fee imposed for same day funding. This wouldn't be expected to be any higher than £6 or so. This is now the central lending arm of Valour Finance Group Ltd whilst they broker through Best4Loans. The owner has poured plenty of cash into this rebrand that is evident from the high standard that www.savvy.co.uk has been crafted to. Secure logins are provided here to those who take out a loan.
The Savvy loans can only be accessed between Monday and Friday. They make no reference to the times and so standard working hours would likely be when the payouts are arranged. There has been a number of product changes from the older Lightning identity. They for instance previously offered a monthly repayment between £80 and £800. The previous charge over the year was also £1199.96 and so they have lowered this. Whilst it is always good to see reductions being made, you would have expected them to cut this cost down further to be more competitive against lenders like Pounds to Pocket. They charge £875.61 per year (with Promo) and they trade 24/7.