2014 Lender Lists:
Lend UK @ www.lenduk.com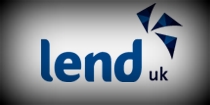 Lend UK was created by United Kash Ltd back in 2010. These loans that are available through www.lenduk.com carry terms of either 4, 6 or 12 months. These are fixed as £100 or £200 over 4, £200 to £500 is 6 and £500 to £1000 covers 12. The new customer limit stands at £500. A nice touch on the application form is that they quickly display instalment breakdowns when any such figure is entered. To cover their pricing, per £300 borrowed over 6 months there would be a charge of £348. For a £1000 sum over the 12 months you would need to pay them £1040.
Same day transfers are provided for free, but they state that the application must be processed before 7pm to benefit from receiving cash that day. This is relevant to working days only, as they close over the weekend. Further to this they close early at 5.30pm on a Friday and so you'll have to apply much earlier on that day. A note is made that a telephone call must be made as part of the application process. Once approved and funded each customer is handed with secure logins at www.lenduk.com. The ability is there if desired to repay early and price reductions are made when this is done.
Lend UK has took on BCCA membership. Although some people may be put off by the verification call, they are relaxed in what they ask from their applicants. One notable feature is that they are happy to consider applicants who are self-employed. Many of their rivals ask for applicants to be in full time employment and so it is good to see that they choose to make exceptions. Although this company may not boast top rates, they are cheaper than Lending Stream over 6 months and they also edge out Pounds to Pocket over the year. I'm sure they'll be happy about this, since these are market leading brands.