2014 Lender Lists:
Laura Lends @ www.lauralends.co.uk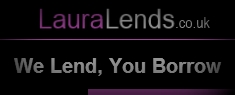 If you have been searching for new payday lenders 2014, then you wouldn't have had much luck to date. There was various new launches and rebrands in 2013, but no new entries had sprung up. This was before we spotted Laura Lends that can be found at www.lauralends.co.uk (As an update:
Cash Float
and
Pixie Loans
are other 2014 entries). The brand in focus arises from Tide You Over Ltd. This lender that is based in Cardiff has already been introduced here for their central company (
Tide U Over
) and also for
Mr Instant Cash
. Laura Lends is similar to Mr Instant Cash whereby each website is basic in design, with the same matched product specs.
In comparison, Tide U Over has been crafted to a higher standard and you will see there that they provide a calculator that shows that you can pay less depending on when your next payday is (this is not the case here). To join £30 per £100 interest, there will be a required fast funding fee priced at £5 and so over the month you would pay £35/£100 (see the main company profile for more info on their pricing). The available sums range from £100 to £500 (£400 for first time customers). Unlike the fellow companies, there is currently no encryption used at www.lauralends.co.uk, although account logins are provided. As an update, SSL is now added, but you must enter HTTPS manually.
These Laura Lends loans are issued between Monday and Friday and applications must be put through before 5pm to trigger a same day payment. One thing of note when looking through their FAQ was that although they do credit check, it is stated that bad credit is accepted that includes those that have a CCJ. This is interesting to see, since CCJs are usually massive red flags to most of the payday lenders that you will find across the market. With a range of lending brands now active, it is clear that this Cardiff-based firm is emerging well. It is good to finally see a fresh lender launch for 2014 and they have now been joined by a few others as well (Updates Here).