2014 Lender Lists:
GuarantorUs Loans @ www.guarantorusloans.co.uk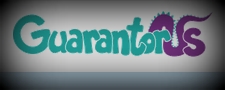 GuarantorUs Loans is a new lender in the guarantor loan sector located at www.guarantorusloans.co.uk. This brand devised by Oakbrook Finance Ltd has a listed formation year of 2012 (on their Facebook page), but their website wasn't registered until the summer of 2013. This lender offers large loans with sums spanning between £1000 and £5000. The repayment term can range from 12 up to 60 months. The standout feature to address here is the competitive pricing up for grabs. The APR rate stands at just 45%. This competitive rate is reflected in a charge of £216.21 per £1000 over the period of a year.
In comparison to the big names, at GLO the price would be £228.44 and a higher charge of £236.72 would need to be made to Amigo Loans (Previously FLM). Broker fees can of course jump up the prices, but if you head directly to them then you won't need to pay this. GuarantorUs in this regard currently offers the cheapest guarantor loan online (update: Everyday's Duo has taken them over). A UK homeowner must step in to back the application. They must of course have a good credit history and be aged between 23 and 72. The contract is processed online and so you could impressively receive your money on the same day.
The branding at www.guarantorusloans.co.uk is top notch and SSL is used. No facility for logins is provided, but hopefully this will be added soon. The opening times are listed from Monday to Friday as 8am to 8pm and they do also open on a Saturday from 9am to 5pm. This lender never imposes any late fees. It may be early days for GuarantorUs Loans, but with great pricing and same day funding I'm sure that we will be hearing much more from this impressive newcomer. There has been other companies enter this niche recently, but only Duo has beaten their 45% rate (with 39.9%).