2014 Lender Lists:
Fowlers Finance @ www.fowlersfinance.com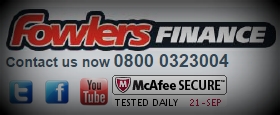 Fowlers Finance is a used car dealer based in Stoke. Other than in Stoke, there are 10 other locations noted including a mixture of showrooms and workshops. The other areas are Birmingham, Bristol, Hemel Hempstead, Leeds, Liverpool, Manchester, Maidstone, Newcastle, Sheffield and Walsall. They primarily trade through www.fowlersfinance.com that was setup in 2010. Then there is www.fowlersmotors.co.uk that came much earlier in 2004. They don't reference the particular year that they were formed and so 2004 would be likely. This dealer promotes having 300+ vehicles stocked across their network. A portion of these appear to be vans that are available through their Taxi Van and Truck website.
Their financing options are targeted at those with poor credit including CCJs and defaults. Fowlers Finance will look to setup an agreement under either Hire Purchase or Personal Contract Purchase. Their lending panel is not disclosed, but they are believed to use around 20. When applying at www.fowlersfinance.com the SSL doesn't trigger automatically and so you would have to enter HTTPS manually to access their encryption. From browsing across the site there was no charge breakdowns provided. Besides each listing they just note a weekly repayment amount with no total repayment figure. High APRs should be expected based on their focus on bad credit and guaranteed financing.
The listed operational times between Monday and Sunday are 9am to 8pm. Whilst this may cover their customer service, it is unknown how long their showrooms stay open. When viewing the details for their Manchester branch, the stock examples were attached to the page, but many of the listings weren't showing up in error. With no idea of the costs and lenders used by Fowlers Finance, it is difficult to determine how they compare across the market. The location span is impressive, but there is a limited number of cars to pick out. It may be best to just pop into a local dealership to check out their range before applying.