2014 Lender Lists:
Amigo Loans @ www.amigoloans.co.uk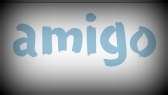 Amigo Loans was unleashed on the market in 2012 at www.amigoloans.co.uk. This was a rebrand from the previous identity of FLM Loans. This original company was formed in 2004 and they launched the website soon after in 2005. The Richmond Group is the owner with the man in charge being James Benamor.
FLM Quick
was recently introduced here that has now been closed down. This smaller guarantor concept may not have worked so well for payday loan quantity sums and they may have also just preferred to focus on the brand in question. Under this new brand identity they have been growing at an accelerated rate through TV advertising.
This product can be taken between 12 and 60 months and you can make savings should you clear the balance early. The level of cash that can be applied for sits from £500 up to £5000. An Amigo Loans login is equipped within www.amigoloans.co.uk. This is good to see since many of their rivals don't offer such a management facility. For £1000 over a full year you would pay £236.72 and the quoted APR is 49.9%. You would end up paying more if you are referred by one of their brokers. Poor credit is accepted and they may consider those discharged from bankruptcy.
A backing (a family member of friend) must be found and they must be a homeowner between 18 and 75 with a good track record in repaying debts. Tenants with excellent scores may be able to back. The process can now be completed completely online without having to send documentation through the post that has been a notable step forward. They are open from Monday to Thursday (9am/7pm), Friday is (9am/6pm) and Saturday is (9am/1pm). A few rival guarantor lenders do provide lower pricing, but there isn't too much of a difference between them. As a mark of value, these top few guarantor lenders are around 3.5 times cheaper than what you would pay at Pounds to Pocket (for £1000 over 12 months).